SOLROC is there to assist.
Disasters happen. But then comes remediation. Damaged materials must be stripped and proper testing has to take place to ensure dwellers' comfort and safety.
SOLROC can provide expertise for damage assessment, air testing, asbestos testing, mold, radon or asbestos assessment and remediation plans.
AIR and SURFACE Mold Testing
Air quality and mold presence in buildings are of concern to managers of commercial and industrial buildings.
CNESST can close an unsafe worksite and owners can be sued by their tenants. Assets can deteriorate if damages mitigation is not processed on due time.
SOLROC Group has the right tools to provide clients with building hygiene expertise.
SOLROC uses infrared thermography imaging equipment allowing to find areas where abnormal moisture is at risk.
Mold and spores are ubiquitous in the environment. To determine quantities and species, air tests (amplification) are necessary. The presence and danger of strains such as black mold inside the building are assessed. SOLROC reports are regularly provided to banks or insurance companies.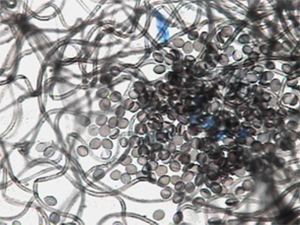 Depending on their genus and species, molds and bacteria can be classified according to their degree of harmfulness or risk of allergy. SOLROC can provide the expertise allowing decision on habitability of the premises and health risk to dwellers.
SOLROC can count colony forming units (CFUs) and measure the performance of fungal decontamination processes before and after fungicide intervention. Mold species are also identified and their harmfulness is evaluated.
SOLROC also intervenes to determine the degree of moisture of materials, including floors, and their compliance with various targeted uses.
SOLROC can perform the most complex air tests its customers require: molds, volatile organic compounds (VOCs), carbon monoxide, dust, asbestos, etc.
SOLROC interprets the results according to current standards and guides its customers in the solution of their air quality problems.
Fungal or Asbestos Decontamination Plans
SOLROC can propose fungal or asbestos decontamination plans in accordance with the New York Protocol or with other applicable standards or standards (CNESST, IRSST, EPA, City of Montreal, etc.).
SOLROC also monitors workers conditions and supervises fungal decontamination.
SOLROC offers innovative solutions in terms of building health, in particular in terms of protection against moisture and fungal remediation sustainability.
SOLROC can perform the daily and final air tests required by the CNESST for fungal or other decontamination work.
SOLROC has qualified staff and the best available tools on the market to carry out the work in a professional and diligent manner.