You own a building from anytime between 1900 and 2000?
Chances are you will find asbestos in some of its construction materials...
Risks to workers' respiratory health incurred from accidentally released asbestos fibers in the air are now well established.
Encapsulated or sealed asbestos fiber is neither illegal or dangerous. However, if any asbestos containing material (ACM) is abraded, cut, punctured or torn, then follows a risk for workers' health. No one is allowed to expose a worker to dust from a damaged ACM. Construction and maintenance personnel on your property are at risk.
Solroc helps clients evaluating asbestos related risk.
CSST considers asbestos as the leading cause of work related death among workers in Quebec. Indeed, according to 2013 figures, 105 deaths are related to asbestosis or injury which asbestos is the causal agent. This is 86.8% of all work-related deaths that year.
Establishing an Asbestos Registry
RBQ requires building owners to inspect buildings dating from before May 20, 1999 and locate sprayed on and pipe thermal insulation possibly containing asbestos. Solroc provided real estate managers with hundreds of such registers or related asbestos studies.
Producing a Preventive Management Plan
An asbestos investigation must be done prior to any construction, renovation or maintenance work if drilling, cutting, tearing or removal is considered. Workers exposed to such work must use protective gear according to apprehended risk. Group Solroc will map RISK AREAS with ACM and provide recommendation for appropriate safety levels.
Presale Asbestos Audit
During a purchase inspection, damaged heating duct insulation or other ACM are often observed. In such cases, Solroc Group can sample the materials at risk and formulate recommendations for their repair or encapsulation.
Asbestos Preventive Demolition Plan
CSST requires any building demolition project to proceed with a thorough investigation of potential ACM. Solroc is providing this kind of construction expertise every day and assist real estate developers in Quebec.
Protecting Workers' Health
Solroc can perform required daily or final air sampling and counting in all risk areas, as per CSST standards.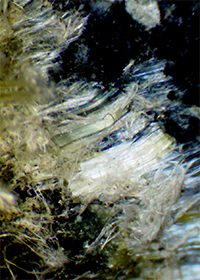 Where do you find asbestos?
Sprayed-on insulation
Furnaces and heat ducting pipes
Stuccos, plasters, gaskets
Tile floors and ceilings
Vermiculite
etc.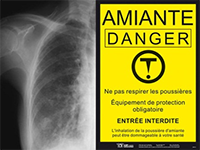 ASBESTOS: why it is so important to prevent
Asbestos is the cause of nearly half of deaths related to occupational diseases in Quebec.
There is a latency period of 20 to 40 years for these diseases to appear. Recent deaths come from exposition in the 1970s and the 1980s.
The Quebec National Institute of Public Health has established that a large proportion of asbestos-related diseases are never declared. For instance, mesothelioma cases related to occupational diseases account for only 21.4% of all registered cases between 1975 and 2002.
Source: CSST, August 2012
Group SOLROC is your expert laboratory for asbestos related studies, material/air sampling, analysis, mapping and related recommendations. Reports are signed by qualified professional engineers and occupational work professionals.